REQUIRED CLINICAL PSYCHOLOGIST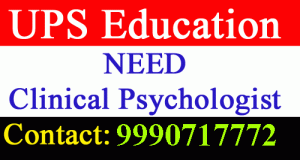 AIR FORCE STATION, RACE COURSE, NEW DELHI – 03 FOR FY 2015-2016
1. Air Officer Commanding, Air Force station New Delhi, Race Course, New Delhi – 110003, invites application for outsourcing of part of time specialist Medical Officers for the services as per given below: –
Service: Clinical Psychologist
Essential Qualification: MA in Psychology
Place of Work: Family Welfare Center, Old Willington Camp, Race Course, New Delhi – 03
Working Hours: Five days a week for 3 hours duration each during working days of the week preferably in the morning session.
2.  Part time specialist already working or applied earlier has to re-apply fresh and shall not be automatically re-registered. Weightage will be given to Ex-servicemen and, experience of working in Armed Forces Hospitals/Clinics. Candidates residing in Delhi will be given preference.
3. Interested candidates fulfilling the qualification may apply on plain paper along with photocopy of qualification & experience certificates, biodata, contact number, two recent passport size photographs addressed to Senior Medical officer SMC, Air Force Station, Race course, New Delhi-10003, by hand/post within fifteen days of publication of advertisement.
For more details contact at:
UPS Education
Ph. 9990717772
Web: – www.upseducation.in