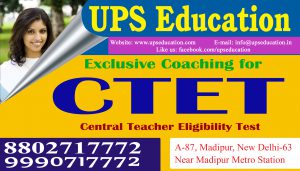 UPS Education is a leading Coaching center of Psychology in Delhi. UPS Education provides Psychology coaching Classes of all standard. Our physiological psychology class is always lively and interesting. We love every article that has to do with neurons and how the brain works.
Subject Taught:
Psychology up to 12th grade-Higher Secondary
Psychology up to Bachelor in Arts
Psychology up to Masters
Educational Psychology up to M.Ed.
Organizational Psychology up to MBA
Child Psychology
Human Development
Life Span Psychology
Abnormal Psychology
Social Psychology
Statistics and Research method
General Psychology
If you are looking for any Psychology Classes so we are pleasing to inform you that you can make a good career in Psychology to Join UPS Education. We've a great Teacher Team that is provide a great environment and helpful classes in Exams.
UPS Education
Phone: 8802717772, 9990717772
Website: www.upseducation.in
E-mail: info@upseducation.in\
Address: A-87, Madipur, New Delhi-110063, Near Madipur Metro Station
Area: Paschim Vihar, Punjabi Bagh, Peeragadi, Nangloi, Shivaji Park, Rohini, Pitampura, West Delhi, North Delhi