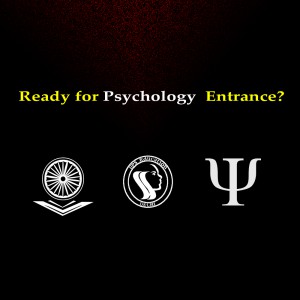 UPS Education is the Best Institution for Psychology in India, Highest result & Gold Medalist faculties like Mr. Arvind Otta, makes us unique and excellent coaching center for Psychology Entrance. We provide Psychology coaching for MA/M.Sc Psychology Entrance, M.Phil Clinical Psychology Entrance and UGC NET JRF Psychology.
MA/M.Sc Psychology Entrance
After the graduation students may get admission in MA or M.Sc Psychology course, at Masters level universities offered a particular branch or specialization and students have to choose one of those branches of Psychology according to his/her interest, these different branches may be like: Counseling Psychology, Industrial Psychology and Clinical Psychology. For the admission in MA/MSc Psychology Course Universities conducts the entrance examinations. All the universities have their different – different admission criteria, Non Psychology background students may also attend the entrance exam in few Central Universities as per their guidelines like: Delhi University, Jamia Millia Islamia.
M.Phil Clinical psychology
In India the course M.Phil Clinical Psychology regulated by Rehabilitation Council of India (RCI),
The aim of this course is to prepare the trainee to function as a qualified professional Clinical Psychologist in the areas of mental and physical health by offering Diagnostic, Therapeutic, Rehabilitative, Administrative services, and to work towards promoting the well-being and quality-of-life of individuals.
Mental health problems are continuously on the rise owing to change in life style, habits and mounting stress in personal/occupational/social domains across various sections of the society. Clinical Psychologists apply knowledge and methods from all substantive fields of biopsychosocial sciences for promotion and maintenance of mental health of individuals. The number of clinical psychologists available in service sectors has increased significantly. Though there is an upward trend, number of professionals currently available at various levels is no match to the number specified to face the ever growing demands in the field.
UGC NET JRF Psychology
The National Eligibility Test (NET) is the national level entrance examination in India for postgraduate candidates who wish to qualify for university level teaching jobs in India and/or admission to PhD research programmes. The basic objective is to determine eligibility for college & university level lectureship and for award of Junior Research Fellowship (JRF) for Indian nationals in order to ensure minimum standards for the entrants in the teaching profession and research.
Contact us for more details:
UPS Education
Call: 9990717772
Web: www.upseducation.in